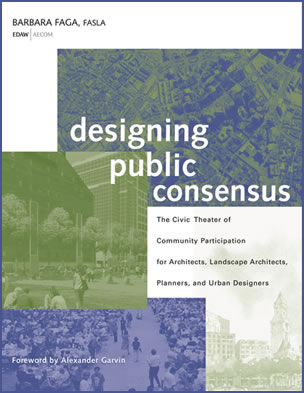 Welcome to Designing Public Consensus, a website dedicated to the challenges and rewards of working with community groups, government agencies, citizen activists, and other stakeholders on urban design projects.

Over the years, EDAW, Inc. has developed an astute sense of what it takes to create a shared vision among many disparate interests. Now, these lessons are available in one incisive volume, authored by EDAW principal and executive vice president Barbara Faga. Designing Public Consensus: The Civic Theater of Community Participation for Architects, Landscape Architects, Planners and Urban Designers (Wiley, 2006) examines public process implemented in projects of different scales, and reveals the lessons learned by the design practitioners.

Through case studies, designers, government officials, clients, community members, and other stakeholders reveal the moments of brilliance as well as the good intentions gone wrong.